About Me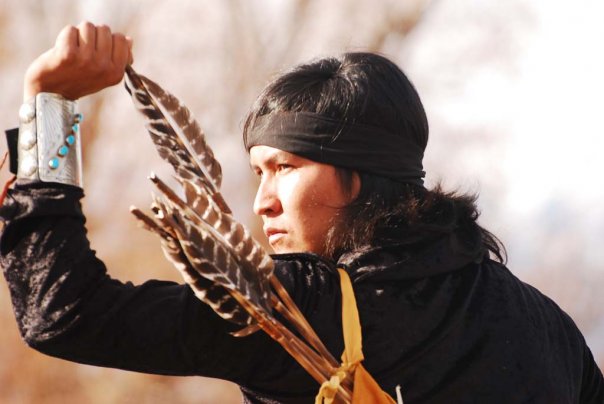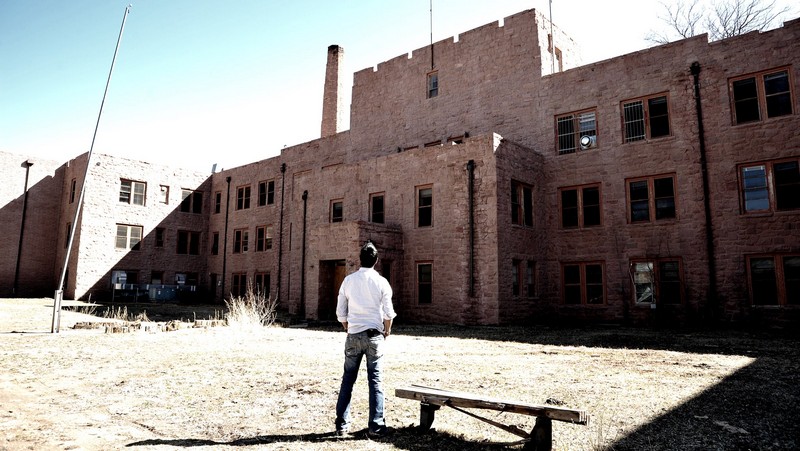 Looking back at the hospital he was born in at Ft. Defiance, AZ.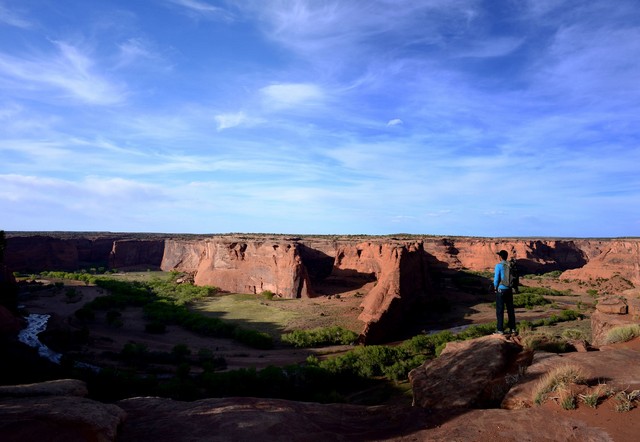 Overlooking the vast landscape of Canyon De Chelly.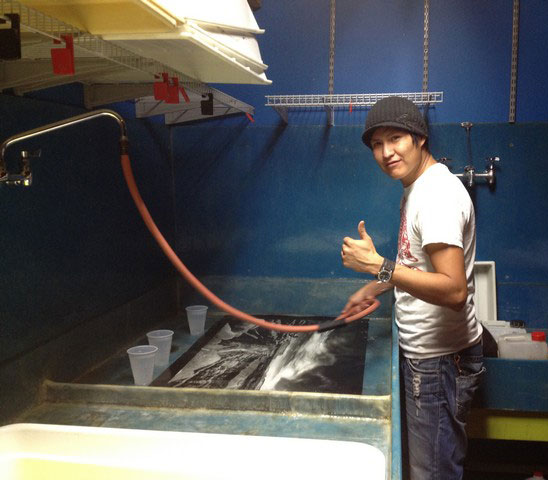 Working in the darkroom at Hidden Light, LLC in Flagstaff, AZ. Washing off the 40" silver gelatin print of "Tuweep Night".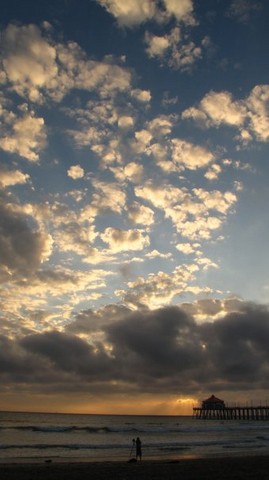 Waiting for the light near a place where he surfed. Huntington Beach, CA.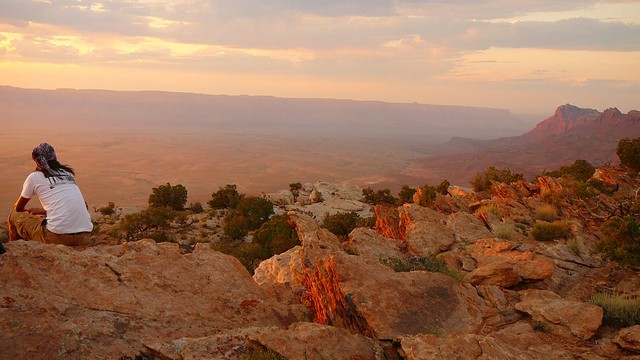 Mylo in his backyard overlooking the Vermillion Cliffs and the beginning of the Grand Canyon.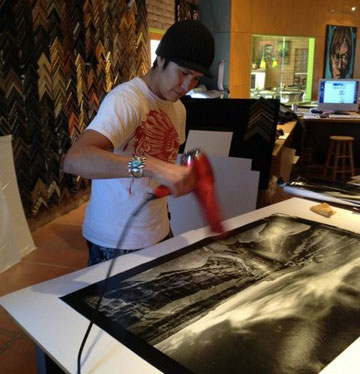 After a long print bath, drying the final print with style.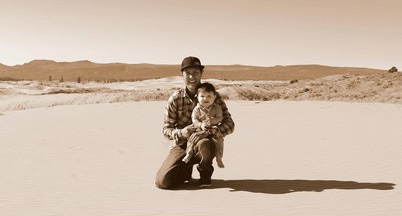 On a recent excursion with Denali.
Yah'ah'teh! Shi ei Tobaaha ei nishlli, Kin l ichii'nii bashishichiin aadoo Naakaii Dine'e' ei dashichei doo Honaghaahnii ei dashinali. Those are my clans and this is how I am Diné (Navajo). I was born just a few miles north of our Navajo Nation capital of Window Rock, Arizona and grew up between the two small communities of Steamboat and Coppermine, Arizona. The Coppermine homestead is south of a photographer's mecca Page, Arizona. Navajoland covers a landmass larger than West Virginia or Ireland and it is full of incredible beauty. I am very grateful for the teachings of my people and the culture that I have. I truly have deep roots! I have always been taught to walk in beauty with my surroundings. These include family, friends, animals, visitors from across the great waters, and the land upon which I walk and gaze. The Great Creator has constantly been my Teacher, my source of inspiration and motivation to be a better person and contributor to all people. I hope you enjoy your visit to Fourth World Images.
As a young boy rising with my 'cheii' (grandfather) and having morning prayers to balance the mind, spirit, and body were ways to prepare for the day. My 'masani' (grandmother) has been a fountain of kindness, charity, and hard work. While growing up, Navajo was the only language I could speak around my grandparents as well as my great-grandparents and my community. Grandma was the only one that knew some English. The vital cultural stories and teachings of my people can only be shared through our Navajo language and some stories only at certain times of the year. I am ever grateful for the blessing of living out in the middle of nowhere, with no electricity or running water, riding horses through ranges of endless beauty. The experiences I had shall forever be envisioned, remembered and passed on to those of whom I come across. In late 2012, my grandfather passed away a couple weeks from his 104th birthday.  He was born in 1908. My grandmother passed and reunited with him a month after. She was 92. It was beautiful. They were beautiful. They were my oldest ties to the old ways.
As I grew, English became my second language around the age of 11. I learned some Spanish while I lived in California and Florida after high school. I became fluent in the French tongue a few years after and still use it daily. Some of my favorite moments are translating from French to Navajo or vice versa. I made the personal decision to serve a mission for The Church of Jesus Christ of Latter Day Saints in 2005. I learned French while living in Southern France. The two years remind me most of my 'masani' (grandmother); kindness, charity, and hard work. My parents along with my grand and great-grandparents have always inspired me to build on my talents and aspire to bless the lives of others. My mother's greatest council has always been to share what I have and know, particularly knowledge because knowledge is power.
In May of 2007, I returned home from France and decided to go on a drive through home; Navajoland. The scenery on that drive was very different and incredibly vast compared to the French Riviera and other places in Southern France. On that drive, I had a vision. It was powerful. Every fiber, cell and particle of me was encapsulated by that vision.  My desire to photograph the Reservation on Large Format cameras began on that drive. I remember how the amazing beauty brought tears to my eyes and knew I had to share the beauty of my homeland. I remembered my great grandfather and grandfather's taught me a sacred duty is to tend to the land. This meant to respect the land and ultimately be a steward in caring for it.  I know it is such a blessing and privilege to live in such a marvelous era in the history of the world. It amazes me and causes me to wonder what stress and strain nature went through to arrive at such majestic beauty.  More importantly, it causes me to ponder frequently about how those far before my time made it day to day without the sources that lie so easily at hand in my day. In that moment of time, I felt an overwhelming feeling and it reminded me to always be grateful for what I have around me. Thought this wasn't the first time I was behind a camera, that vision I had was a calling and catapulted my desire and passion to specialize in photographing Navajoland, other Native American Reservations and The Desert Southwest. I began with no knowledge of using Large Format cameras, lens nor formal training in photography or let alone loading a sheet of film. The quest began. Fortunately, I was and still am consistently fueled by that vision.
My photography has been spiritual in the sense of purpose, study, emotion, and meaningful ties to my heritage. I enjoy seeing the suns' rise or set, the mixture with rain, snow or wind or clouds and stars. These characteristics enable me to prepare for the very particular time to capture known and unknown beauties of this special land. This time period in the Navajo stories is known as the Fourth World or the glittering world. Hence the name of my photography business and the limited edition color images printed on photographic paper by Fuji. My images have come from much time in the field waiting for the light. Light is truly the vital source in my work. For me, understanding light is critical. In fact for me understanding light and controlling light is more important than having a wonderful composition. I have hundreds and hundreds of note cards filled with information on how light once crawled across the sand dunes or how and when the rocks glowed as if on fire. In addition to the note cards, I review many exposed sheets of film as they too aide me in preparation. These steps prepare me to capture a premium image at an optimal time with natural light and conditions or simply enjoy the peace and moment and walk away with no image. An ultimate test.
My Navajo culture has many positive influences for my mind, body and spirit. These traditional chants, songs and music invite a special spirit into my work. Playing my Native American Flute while waiting for the light allows me to see the light coming and concentrate on minute distinct details of the image composition. My Native American Flute is never left behind on my photographic excursions. On occasion I'll pack my didgeridoo and sit inside alcoves and enjoy music departing to the ears of nature and the vast canyon country I visit. A couple of my favorite places to play the didgeridoo are inside the slot canyons near home and deep inside Canyon de Chelly.
Now about the technical portion of my work. Most people may say I am silly or crazy for the next bit. I photographed for well over a year without using a light meter. A tool that gauges light values or "brightness". I used a Pentax one degree analog spot meter for the first few months and I used it every day on exclusive photography excursions into slot canyons, drives all over the west and pulling off the side of the road to measure light values of the shrubs, rocks and water. I would always record as much information as I could and store them in my bank of notes. My light meter was often the only thing I packed besides water and snacks on long hikes to study the land and light conditions before a trip with my camera gear. After a while it no longer read the Exposure Values (how bright the subjects are), so I sent it in for repair. Unfortunately the needed part didn't exist anymore. This was when the ultimate test to the craft began. Understanding light and relying on my past experience. The field notes I had made from all my previous excursions received much reviewing time while waiting for the light since the loss of the light meter. I spent countless hours looking at past sheets of exposed film to remember all the mathematics between natural light, time, and aperture, shutter speed and lens to use. With experience and my notes I was able to produce wonderful exposures. Some of the images that are most collected or purchased were from that time without the light meter. I have since replaced the light meter with an exact version and to this day, I still photograph as if my light meter was never available. This allows me to always be in the mode to know the photographer's prime source; light. All of my adjustments come from the given light. My grandfather always taught me to be dependent on my knowledge. Truly a prophetic council.
The photographic equipment I use consists of a wooden tripod by Berlibac for my 8x10. I use Manfrotto tripods for my 4x5 and Fuji 617 panoramic camera. All of my camera's sit on professional grade heads by Manfrotto. My lens range from Rodenstock Caltar II's and Schneider Apo Symmar for both the 4x5 and 8x10. I enjoy and prefer to use color film by Fuji and black and white film from Ilford. I use no color filters to enhance my color work and use Singh Ray Filters to control high exposure values in my black and white images.  All of my cameras, lens, tripods, film, film holders, filters cable releases and so forth are housed in different camera packs from Clik Elite. I firmly believe Clik Elite carries my vision and is made for the adventurer. For the moment I strictly use the 8x10 for black and white images. From the black and white exposures, I work in the traditional analog darkroom to create Silver Gelatin and Platinum Palladium prints. My film cameras are the only cameras I wish to use. They suit my needs perfectly as I walk in silence through areas of rest and paths of beauty. My equipment allows me to tune in with the special and sacred landscape and become a part of the moment and a steward of Nature. I am happy my gear is heavy and although it is always ready, most times it goes along for the ride or hike. It is quite common for me to spend countless days to wait and finally capture the near romantic dance of land and light. The weight and limited resources of film allows me to have an approach with precision and discipline. It is truly like a traditional hunt. It is feast or famine.
I have learned a lot about photography on location and I photograph in optimal conditions. I've out ran flash floods, repelled off canyon cliffs, camped in -20 degree weather and even waited for the peak of Denali in Alaska to appear. After waiting 18 hours in July, the peak appeared for nearly 10 seconds. I have learned quite a bit from many early mistakes. I am often asked if I will ever convert to digital and the advancements of technology and software to photograph my homeland and the Desert Southwest landscapes. My answer is probably not. There is something incredibly different and nostalgic about photographing in the traditional film format and the challenge to enjoy a couple supreme exposures, rather than hoarding many. Not only is creating an exposure vital, the hands on craft of working in the traditional darkroom is a near lost practice in fine art photography. Let alone producing Platinum Palladium prints. Working and creating Silver Gelatin and Platinum Palladium prints in the darkroom requires precision and expertise. There truly is no 'undo' button once the darkroom door is closed. However, I do own a couple high end Nikon digital cameras and have many prime lenses. Again my digital gear receives far less attention then my Fuji 617 medium format camera and 4x5 and 8x10 large format cameras. Quite frankly, my home computer hard drive crashed recently and I haven't worried about nor was I in any hurry to find Photoshop or software again. I was more worried about running out of ice cream. Again my vision allows me to keep the traditional ways alive. Both in image capture and Navajo culture.
From my experience, digital photography is by far more convenient to use. Batteries to recharge. Memory cards to fill up. Autofocus, telephoto lens, image stabilization, an instant image review and built in computers to provide calculations and a digital zone system to review. It truly has become a lot easier for a person to enjoy photography with a digital system. I know my Nikon D700, D800 and D4 fairly well. The large format cameras have been the source of seizing and capturing the emotions of the living earth…the moving light and the clouds that are waited upon. I am happy to know I may return home with a sheet or two of exposed film with incredible detail that is unsurpassable. The depth of field that portrays nature at its best by having a specific selection or everything in the image composition clear and sharp as can possibly be. This is provided by the many movements and the flexible options from large format field cameras. I always imagine if I only had one possible moment to photograph an exquisite landscape. My approach is to always have one or two supreme images rather than 3 or more decent exposures. This is the ultimate experience in my photography. If my images are presented in black and white, it is because that was my vision in preparation. And yes, it was exposed on black and white film. I once read this somewhere, "Any image altered on a computer is an excuse for bad photography." Reading that has been a nightmare as well as an incredible invitation at preparation and knowing all aspects of my equipment. I sincerely wish to not offend anyone. I highly encourage you to build and master your talents, whatever they may be. We all have them! If it is photography you are pursuing, it doesn't matter which method you prefer. If you have met me somewhere, maybe inside the slot canyons, maybe somewhere in the field, I'm sure you know how much I love to share what I know with others. I feel it is a responsibility to share with others what works and what doesn't' and what could help. You can read the multitude of experiences in my workshop tab or do an online search. I am passionate about helping others increase their understanding of light in photography and aligning the given equipment to produce wonderful memories and experiences.
My photographic experiences are always a rush of feelings and emotion; sometimes unfruitful due to light conditions, but something is always learned, noted and appreciated. Patience is strengthened, persistence is pursued, and passion guides, photographs are made. Navajoland, the Desert Southwest and Native America are seen.
My photographic landscape images in color are never altered or changed from what I saw. I stand by my images and can show with confidence and ease how the original film exposure is identical to the final print. The rich natural colors come from the vibrant presence of nature at different times of the day and year. I use no color filters to enhance any of my color work. Any black and white image I produce comes from the traditional darkroom and exposed on black and white film. Traditional dodging and burning happens by hand.  I firmly believe my darkroom work comes to life at Hidden Light in Flagstaff, Arizona and my photographs are presented in using the finest of archival materials for fine art. The majority of my moulding selection comes from the hand crafted line of Italian Roma and are protected with Tru-Vue Museum grade glass. I firmly believe the most beautiful part of earth deserves to be unveiled in red carpet fashion for the viewer and preserved for those centuries from now to enjoy.  I hope you enjoy seeing these images and return again to view the new work. I hope you find comfort and rest with my music. My upmost desire is that you feel a special Spirit of happiness and as we say in Navajo, may You Walk in Beauty,
Myron 'Mylo' Fowler

...Waiting for the Light...
Award Winning Large Format Photographer