Photography Workshops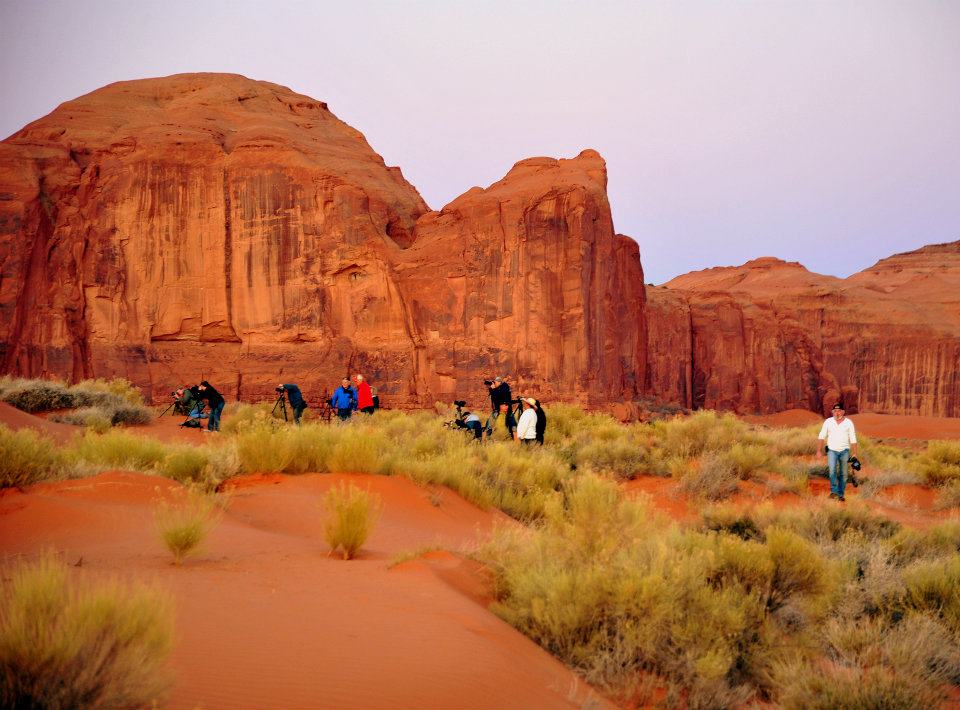 Packing up and leaving for the next location.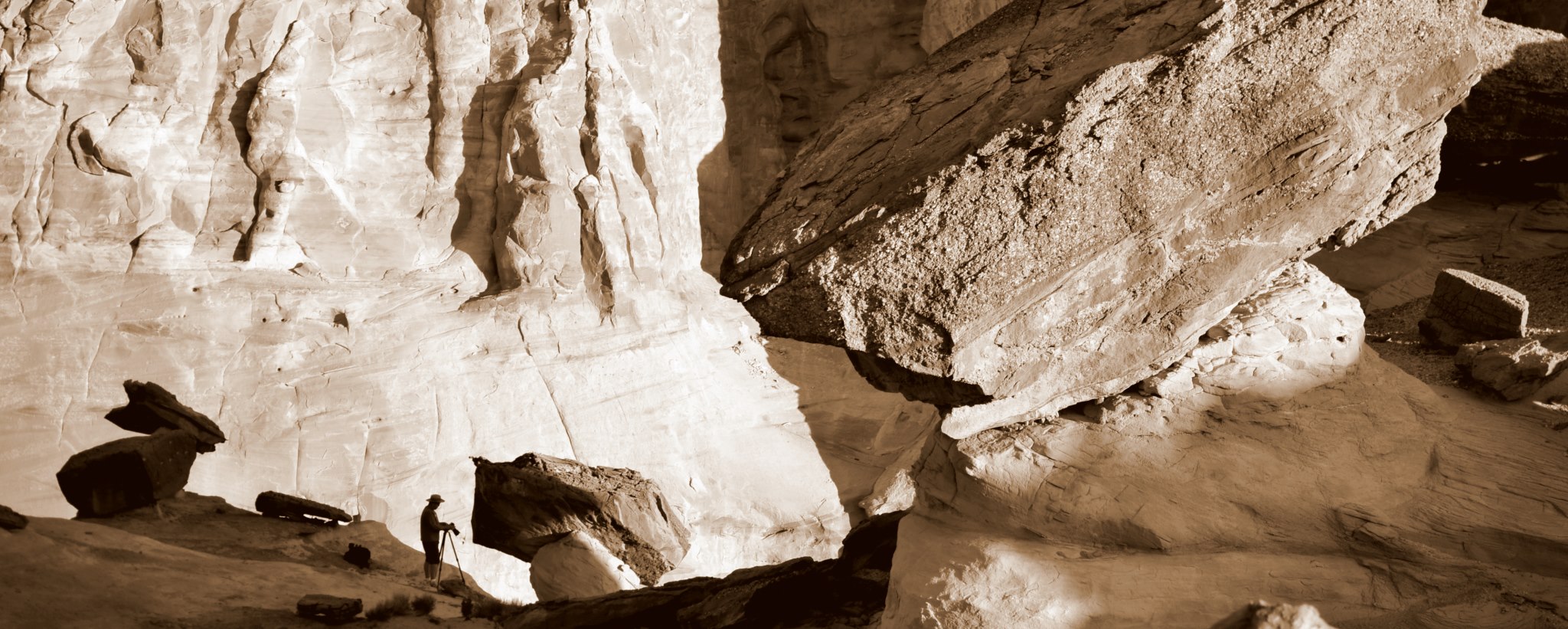 Checking the composition and histogram in the field.
Workshop participants capturing the light of the fire red rocks of Monument Valley.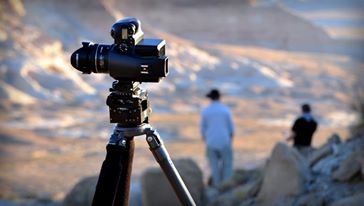 Phase One camera on a photography excursion in Arizona with a private group.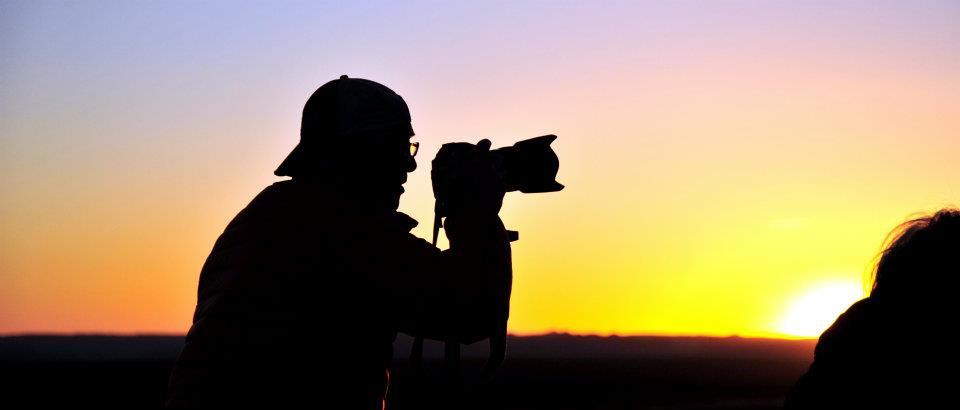 Reading the light at sunrise.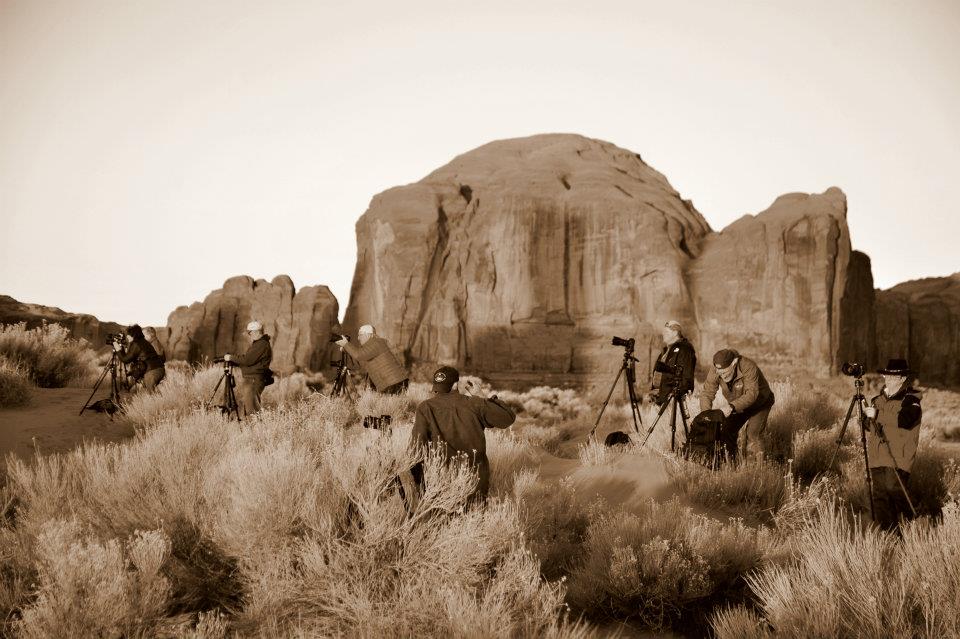 Post Sunrise work of photographers in action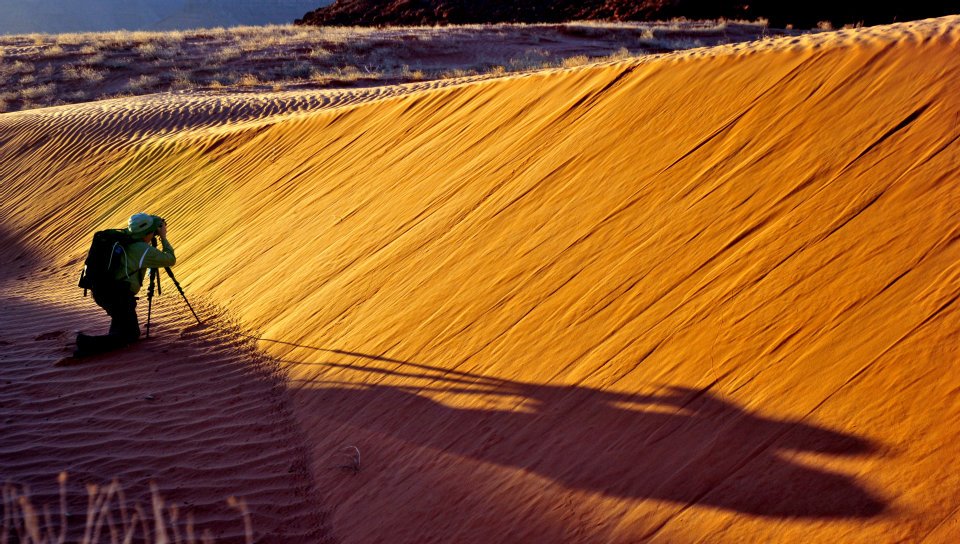 Photographing the "Sweet Light" or the "Golden Time" in back country Navajoland.
Award Winning Fine Art Large Format Landscape Photographer for over the past decade, Mylo has assisted thousands of photographers of all levels on photographing his homeland of the Navajo Reservation and the Southwest. Born a couple miles north of the Navajo Nation capitol in Ft. Defiance, AZ and raised on the Reservation South of a photographer's mecca, Page Arizona, Mylo enjoys helping others capture the light.

A primary user of 4x5 and 8x10 field cameras, Mylo has guided slot canyon excursions and exotic landscape workshops that number into the thousands. Mylo has worked with many camera manufactures and lens, television companies from National Geographic to Weekend Explorer, publications from Outdoor Photographer Magazine to Arizona Highways. He has been sought out by Phase One and other workshop groups for his expertise about the area, land and light.
He is highly recommended by the Navajo Nation as a steward of the land and caters to personalize all experiences of high caliber companies, networks and ultimately, the photographer's experience.

Mylo has traveled across the world from Hong Kong to Berlin, Alaska and into the Yucatan to share with other Nations and its residents regarding the beauty of the Southwest and its abundant Native American heritage and culture. Having had a long history in working with Utah & Arizona Office of Tourism, Mylo has been highly recommended to guide projects and assignments for national coverage or collections to be presented to Kings, Queens, Royal Majesties and Museum's.
In each of the previous years, he has consistently added awards to his landscape work and strictly specializes in film capture. His work has been featured in magazines and his handmade Silver Gelatin, Platinum Palladium and color prints are collected annually in Santa Fe, Phoenix and Los Angeles at the world's most prestigious and renowned Native American Art expositions.

Mylo is fluent in Navajo, English and French. His desire and passion to photograph Navajoland & Native America on film has come from a rich history passed down from generation to generation. He credits his grandparents who recently passed at the ages of 92 and 104, of the importance to marvel and care for Mother Nature. Having learned English at the age of 12, he understands the power of language and the influence it has to enrich the lives of others. The name 'Mylo' was given to him from a dear friend who only speaks in American Sign Language.

Another language he speaks is photography. Mylo finds it beyond a passion to share his knowledge of light, land and critical factors in capturing a premium photograph on a digital sensor or on film. He is very familiar with his D700, D800 and D4 and many of today's digital cameras and lens.The newest camera he enjoys is the medium format panoramic Fuji G617 with a fixed 150mm prime lens.

He feels it is a responsibility and thoroughly enjoys fulfilling the call. He has spent countless hours working with youth in High Schools, Key Note presentations at various companies and camera store's. He continually spends time in various communities to teach and inspire others through the medium of photography.
His approach during the workshop is spending a lot of one on one time in the field with each participant, class room work in regards to post processing and establishing long relationships. He provides continual courses in respect to printing and presentation from paper selection, matting options to moulding choices.

Some of his clients and collectors of his fine art have been featured on The Dr. Oz Show, the Today Show, the Tyra Banks show and magazines including Lucky, the New York Times, W Magazine, GQ, O Magazine, Shape, Prevention, Better Homes & Gardens, Allure, Redbook, Marie Claire, People, Health, Entrepreneur, Sports Illustrated, Self, InStyle, Stylewatch and many more. Some clients range from best-selling authors, Southwest enthusiasts, luxurious homes, casino's and resorts.
To view the upcoming workshops details, itinerary, overview, image examples, costs and dates, please visit www.NavajolandWorkshops.com.
These exquisite workshops do reach capacity and are for those that are new to photography or the seasoned vet who needs assistance getting to the backcountry at the right time. Thank you for visiting the workshop page and in the meantime, read what a few have said about previous photography workshops and excursions.
"Mylo is an exceptional photographer and travel guide with an extensive knowledge of all photographic formats and a great passion for his native homelands.Shooting 8x10 film is far from easy and is a specialist field, yet Mylo'sinnate ability to get the most out of this format is demonstrated in the quality and depth of his portfolio, which is a testament to patience, persistence and an intricate understanding of light and land. My tour was guided by Mylo and to be honest I couldn't have wished for more. His uncanny ability to provide the best possible shooting conditions in a tough environment was timed to perfection, and in that place timing is everything! I flew half way around the world for this opportunity and I wasn't disappointed!"

Guy Havell
Award Winning Landscape Photographer (Australia)
www.guyhavell.com

---
"The young very slender Navajo man introduced himself as Mylo Fowler our "Tour Group Photography" leader. There were 12 people in the group and he quickly questioned each person to determine which camera and focal length would be used.
I observed him work each individual in the group to ensure that the best possible picture would be captured given the equipment. It didn't take long to respect and appreciate his knowledge of cameras and light. Mylo understands light better than anyone I have met and where to be at the right time."
Danice C. - Utah
---
"The Antelope Slot canyon is a real treat. We booked the photography excursion because I've always wanted to photograph the area and canyon. Our guide was Mylo and he was outstanding. He is a great photographer himself and knew just where to take us, and when, to get great shots of the light beams streaming through the canyon roof. He knew more about my camera than I did and I attribute all my wonderful shots to his expertise. A tripod is a real must. I shot with a Canon 5D Mk II with a 24-105mm lens and that was just perfect. If you are going to the Page area get Mylo as your guide.
The best photographic experience I've ever had!"
Richard S. –Connecticut
---
Numerous other reviews have mentioned Mylo, and he definitely lived up to his reputation on our photographic trip. He is an accomplished photographer and also a very pleasant guy to talk to. Once we were at thelocations and canyons, he quickly asked what lenses the different people with SLRs were using, so he could think of the best place for them to set up their tripods up for the different shots. Once he had done that, he went around checking the settings on the different cameras so the shots would come out well. He was able to rattle off the desired settings for the cameras for the people who knew how to adjust things, and also helped out the ones that weren't as familiar with their cameras. And he didn't just do this for the ones with SLRs. He also helped my kids with their point and shoots, plus gave them tips.
My daughter says she learned more about photography with Mylo than she did in the high school photo class last she took all last year!!!
The canyon and area was beautiful in the mid-morning sunlight, but Mylo soon took us to several spots for the shots. It is amazing to see and watch him explain exactly where the light would start and end (and explain why this was important for the shot composition) and also exactly when they would appear.
T.B. –Boston, Massachusetts.
---
"I wanted to go on the longer Photographer's tour. For extra $ - this was one of the best money I ever spent. I managed to get the last spot. Too late in the afternoon to catch any of the famed 'lightbeams' that come into the canyons in the morning -
but well worth it regardless.
If you're a photographer - spend the extra dough. I've gotta give an extra special prop to Mylo. He's a young guy - but so much fun and so cool! I swear this guy knew how to operate my camera better than I did! And he's a great photographer too! He gave us all individual lessons and insights in setting up our white balance, aperture settings and exposure values in order to get the best shots of the area and canyons. Thanks Mylo! The shots I got were Awesome! And I owe a great deal of that to him! I can definitely highly recommend Mylo. He's a great guy who knows a helluva lot about photography. Overall - the best mullah I've ever spent - photographically speaking.
A truly magical and spiritual place. Can't wait to go back.
Jon D. –Seattle, Washington.
---
"My husband and I took the photography trip with Mylo (a Navajo guide) who was highly recommended by reviewers. We are very thankful that we had your advice because Mylo was, by far, the very best guide. Mylo has such an extraordinary understanding of all cameras and photography. He positioned our group to take photos depending on the type of camera and lenses we had. He knew exactly when the light would be coming in from different areas of the slot canyon and area. He had us all in position to capture the perfect moment in each area. This was not an easy task But Mylo had it all figured out and we could all get a chance at getting the best shots. It was great to meet Mylo and wished we could have more time with him just listening to his stories about his 100 year old grandfather and the lessons he has learned from him. The highlight of our trip!"
Dennis and Robyn K. –Cincinnati, Ohio.
---
We did the photographic excursion and I would HIGHLY RECOMMEND it. Some of the pictures we got are UNBELIEVABLE. We had Mylo as our workshop guide and he was very energetic and engaging. Almost more important, he knew everyone's camera better than they did (even the super photographers with massive lenses, tripods, remote controls, etc). He knew each camera's menus and settings and could help you set your camera to get the perfect shot. Even the amateur professionals with their tripods were clamoring for his help. Mylo was great about helping everyone - from those aforementioned people, to even those in our group with point-and-shoot cameras. Personally, I own a digital SLR but treat it like a point-and-shoot. Mylo showed me how to get the most out of the camera! Mylo also played his Native American flute for us in the canyon. It was hauntingly beautiful.
Participant name withheld because she asked. –Delaware
---
"The photographic tour/excursion by Mylo is a once in a lifetime adventure. Not only is Mylo an expert photographer and teacher, he freely shares his expertise with everyone, but is not afraid to share his personal passion for life, learning, the land and everything in it. The area is beyond description, but when you have it and a great human being leading you, you've had the best of the experience! This is a don't-miss attraction."
Bill R. –Arizona.
---
"Excellent guide and instruction by Mylo on how to get the most of your digital camera, amazing what even "simple" cameras can achieve with Mylo's knowledge! Mylo, if you read this: Your office should give users a short info that they have been signed up for your most excellent trip! Keep up your excellent work!"
Peter K. -Lachen, Switzerland.
---
"We took the photo tour with Mylo. I was really looking forward to taking the tour having seen it on the web and several photos at art shows. Mylo is a very personable guide who knows the area well and knows photography even better. He was helpful to each person on our trips and was able to help most users with individual settings. The biggest help is knowing the rooms and parts of the canyon to emphasize and when. The colors and lighting are absolutely incredible even without the beams hitting the floor. You've read the other reviews and I think all of them do a good job to paint a picture of the logistics. Nothing will prepare you for the view inside the canyon. For that alone, go see it. You won't be disappointed and you will never forget this place. Amazing sites and area!"
Participant name withheld because he asked –San Diego, California.
---
"Scratch another great place off my bucket list! This place defies description. It is both beautiful, sacred, and a peace with itself inside the red, pink, sandstone walls.....Mylo was by far the best for this trip. Not only did he enrich us with his grandfather stories, and history of the slot canyon, but I learned more about my camera, and this was a photography tour...OMG it doesn't get any better than this! If you want to go to Page and Antelope canyon, and you want the BEST, go with Mylo. To "drift" along the dry sand-beds, along the red cliffs... to see what you see.....to encompass so many great moments.......that in itself is an adventure. Remember to live before you die, instead of dying before youlive. :)"
Laura W. –Tyler, Texas.
---
"I did a lot of homework in planning for a photographic trip toPage and the Slot Canyons.
We greatly enjoyed the trip with Mylo - he is a phenomenal photographer (spend some time to see his photographs), and he was the only guide that we saw that took us back and forth in the canyon so that we ALWAYS had the best possible light. He helped some of us with our shots - he understands digital and film photography as well as how the cameras work. He was always very polite, funny, and never stopped moving back and forth to check on the cloud cover to find out where the best light would be so that we would not miss any shots that would be available for the day. As far as I know…ask for Mylo if you want the best value for your $"
Nidan.-Sacramento, California.
---
"There was only one other couple with us in addition to our excellent guide, Mylo. We had more time, more assistance with camera settings in the canyon to get the best pictures, and best of all - at the very end of our tour when Mylo played his flute beautifully we were all alone in the canyon. It was very ethereal, dare I say spiritual? What made this tour top notch was our tour guide, Mylo. He is exactly what you want as a photographers' guide - a likable, pleasant, helpful, conversational, interesting guy. We got a Nikon D40 camera as a gift recently and didn't know too much about it. At the end of our tour, we felt like we'd taken a photography class! We had learned so much about the camera! He was patient in letting us get shots we liked and helpful when it came to suggesting good angles. We'd recommend Mylo - to anyone.
S. -Tucson, Arizona.
---
"We went on the photographic excursion and were very fortunate to have Mylo. He was very knowledgeable about the areas geology and a real lifesaver when it came to assisting with photographic angles and settings (we are amateur photographers). It was a wonderful trip with a professional guide and he made sure we got excellent photographs. It was nice to go on a tour where you were not one of the herds but got a lot of individual attention. I would strongly recommend Mylo to anyone wanting to take special photographs of the Page area and the slot canyons."
Kathy R.-Sedona, Arizona.
---
"Booked a Photography Tour. Best thing I ever did on our trip! Mylo was sooo very helpful and taught me things on my camera that I never knew! As a photographer himself, he offered suggestions on settings etc., but only when asked. He knew the canyons and area so well, and the best angles to obtain the most pleasing results. He was having as much fun as I was with my wide angle lens! We were also treated to a new flute composition of his, and listened quietly, to the tones resonating within the canyon, as he played his flute. He is a great storyteller too! Thanks Mylo, we are still on vacation, but when I get home, I shall send you a couple photos of the canyon. I would recommend anyone wanting a great experience in Antelope Slot Canyon!
Rosemary and Paul.-British Columbia, Canada.
---
"After reading the reviews we requested Mylo (I hope this is the correct spelling). He was friendly and personable. Mylo was not only knowledgeable about the canyon he is also an excellent photographer himself. We had a simple point and shoot camera with no tripod and I am certain that had Mylo not been our guide, we would not have had any presentable pictures to show for our trip. Overall, it was an excellent trip, thanks in no small part to our wonderful guide, Mylo."
Sally and Tom P. -California.
---
"A friend and I chanced upon Antelope Canyon as we were traveling West this Spring. We went on one of the photography workshop tours… and I must say that it was one of the most beautiful experiences of my life. The wonders of the slot canyon are well known to many, but it was the quality of our guide that made all the difference. Mylo was warm and helpful, and clearly had a real affection and connection to the place. The song he played for us on his flute is something I will never forget. I would highly recommend Mylo to anyone interested in the Page area and Antelope Canyon."
Micco.-Tallahassee, Florida.
---
"It's hard to describe the beauty of the slot canyons near Page. I've read some of the other reviews, and we all seem to be grasping for adjectives that try to describe their beauty: other-worldly, ethereal, magical. My first reaction was disbelief - this can't be real, right? Well, it is - and it's as amazing and beautiful as anywhere I can imagine on this side of heaven.
I went on the photographic excursion ...It was fabulous! I'd recommend it even if you're not a photographer because the longer time lets you savor the experience rather than just moving on through the canyon and the region. And - I'd recommend it because of Mylo. He's an accomplished photographer himself - I saw some of his work back at the office, and it is excellent - but he is also a very knowledgeable guide (he knows right where to stand, and when, to see the amazing colors of the canyon walls) and a simply wonderful human being, very kind and patient. His playing the flute at the end of the trip was an extra treat.
Make it a point to go. Go for the beauty of the slot canyons, for the photos and memories you will take back, and for the good it will do for your soul. And definitely go with Mylo! I can't imagine a better guide to take you there."
T. R.-New Jersey.
---
"I took the photo trip and Mylo was our guide. I'm an amateur photographer and he was incredibly helpful with changing my camera settings and tripod to achieve the best photos. I probably would have had poor photos if I hadn't had his help. Anyhow, the canyon is breathtaking and you won't be disappointed. You'll be lucky if Mylo is by you, as he is incredibly professional and informative. Highly recommended!!!"
C.S.-Orange County, California.
---
"A great experience!Highly recommended. We had Mylo as our guide and took the photo excursion. It was the best $$$$ I have ever spent. Spend the extra money for the photo excursion! Mylo was so helpful in setting up shots and putting us at the right spot at the right time. Mylo also played his flute which inside the canyon was beautiful."
Participant name withheld because she asked -Tea, South Dakota.
---
"My photography buddies and I did the photography tour with Mylo last week based on the recommendations and were really impressed. Lighting in the canyon and area changes rapidly (within minutes), and Mylo perfectly planned our time to get optimal lighting at each location. He helped to position each member of the group so we didn't get in each other's way and all got great photos. It was fast-paced for a photography excursion, we were constantly on the move...quickly setting up our tripods at each location, snapping and then up again to get to the next site to catch the best light. But as a result, we got a wide diversity of incredible pictures. Best to make sure you understand and set up your camera for long exposure photography before you go because you'll waste precious time in the canyon shooting otherwise. If not, Mylo will help you take care of all the adjustments and options your camera has. What a perfect guide to have helping you with your OWN camera!"
Q. -San Diego, California.
---
"We joined the photography trip on May 13 and had the fortune to have Mylo. As everybody else said, Mylo is great! It is easy to see his passion in the Page area and Antelope Canyon, and in photography. The photography excursion was one of the most memorable experiences in my life.
A couple of things for my fellow photographers.
A tripod is a must.
Mylo will provide some helpful advises with the exposure settings. Yes there were lots of sands in the canyon. I didn't use any special protective measure, just not changing lenses in the canyon and no damage was done to my camera. A "more advanced" point and shoot actually works great in the canyon too since it will save a lot of time setting up tripod… doing long exposure... etc.Regarding the tour in May… it was an amazing light/color show in the area and canyon still!
Overall, a great experience, highly recommended!"
Thoil L.-Princeton, New Jersey.
---
"We were off to Page and Antelope Canyon. With a limit of12 people, Mylo was able to personalize our experience. He knows every single camera out there, and while my group felt like maybe we wouldn't get very much attention as each of us has a point-and-shoot digital camera and everyone else has giant expensive-looking cameras with tripods, Mylo went into our pre-made settings and set each of ours on manual or program or whatever it is and adjusted it so we would take good shots.
He was very energetic and positive, and played a beautiful flute song at the end. It was such a good experience, Mylo was very attentive and memorized our names; we definitely had more than enough time to take all the pictures we wanted and relax, and soak in the beauty. It was also nice because Mylo was so pleasant and gentle and smiled all the time…overall, great, great trip!"
Kathleen P. -San Diego, California.
---
"I highly recommend this tour. I took the photographic tour with Mylo. Best tour I ever had. For the people who knew about photography, he would recommend angles. For the people who didn't know much about photography he would set their cameras so they can have great shots as well. Mylo was very friendly and informative, and the canyon is very photogenic."
Victor. -Las Vegas, Nevada.
---
"Took aphoto trip in early June with Mylo.Great personality (customer service and people skills) and very helpful to a novice photographer. Antelope Canyon was about 10 - 15 minute drive from Page. We had 10 people in our group for the excursion. Going into the slot canyon is like being in a cave while walking on the desert sand with plenty of light coming in from the top slot. Mylo knows the places to be and at certain times to get the best lighting for tremendous photos. I would definitely return for another trip at another time of year for different effects from the changing sunlight.
Participant name withheld because he asked. –Virginia.
---
"Took Antelope Slot Canyon trip on the advice with "the" Mylo. AND HE WAS RIGHT ON THE MONEY! Mylo working with each person to get their digital camera settings right, walking us back and forth through the canyon to get the best lighting and camera angles. Our photos were awesome! If you take this photography excursion, get Mylo and follow his recommendations. Customer service was excellent. Would go with Mylo again when we revisit the area and canyon. You could spend days in this magnificent place!"
Participant name withheld because he asked-Palo Cedro, California.
---
"One does not often come on a unique experience, this is one for everyone. I strongly recommend the photo excursion and I would only go with the Navajo Guide, "Mylo". He is wonderful, an accomplished photographer, and will teach you things about your camera, no matter whether a point and shoot, or a sophisticated digital SLR. The area and canyon is spectacular beyond words, this is not to be missed. The lighting was great and we love the pictures, take the experience with Mylo."
L. A. -Scottsdale, Arizona
---
"My son and I took a road trip to Arizona to take photos. Our 3 main destinations were the North Rim of the Grand Canyon, Page/Antelope Canyon, and the Sedona area. Antelope Canyon was definitely the high point. We made our reservations in advance by phone. Before leaving the shop, Mylo gave us some preliminary camera instructions…Walking through the canyon is level, smooth, and easy. My main concern about paying $$$$ for the photo excursion was whether I'd get an opportunity to shoot the famous sunbeams. Mylo guided us to the part of the canyon where a sunbeam was, showed us where to set up our tripods, helped with settings and exposures…and then took us to the next prime photo spot.
This was one of the best advantages of paying $$$$. We had excellent photo chances at several sunbeams, and all things considered, the $ was worth every penny. I can't speak highly enough of Mylo: photo tips, knowledge of the canyon and pretty much any kind of camera, friendly, remembered everybody's names, and speaks Navajo, English and French. A word about the non-photo-folks: if you're not a photo nut like we are, you'll still be awed by the crazy beauty of this amazing natural phenomenon, you'll still get a good sense of the canyon and area, and probably a few good photos to boot no matter what kind of camera you have. Son and I took hundreds of photos in Upper and Lower canyons, and we both have many keepers, with and without sunbeams. An awesome place, awesome guide, and awesome photos."
Paul and Jake M.-St. Louis, Missouri.
---
"We went along on the extended photography tour with Mylo a couple weeks back during a road trip through the US. We were running very, very late on our drive and so practically screeched into the parking lot... Managed to get everything into the Suburban and out to the canyon. Thank goodness we didn't miss it. The instant we walked into the cave, our guide was saying "Right, set up - we're about to get a light beam right here!" and I felt quite nervous and excited. That sort of excitement didn't stop for the whole time we were in the canyon and area, as photo opportunities presented themselves around every corner. Mylo was excellent at helping with your camera settings (suggesting better white balances and aperture settings) and suggesting views and angles of the canyon that you might not find on your own.
He paid equal attention to those with point-and-shoots and those with DSLRs. I can't believe some of the shots I was able to get, but the canyon did most of the work. It's a fascinating place and extremely special. This place, and the time with Mylo, was unbelievable. So, so good and a highlight of our whole trip!"
Participant names withheld because they asked. -Aberdeen, Maryland.
---
"My wife and I just returned from a 3 day getaway in Page, Az. We went there to photograph the area and Antelope Canyon. We made arrangements to take the photo trip. Mylo went way beyond anything that we expected, I am an amateur photographer and Mylo went out of his way to work with us to obtain the most incredible photos I have ever taken. If you go to Page or Antelope Canyon we highly recommend that you go with Mylo."
Bill M. –Phoenix, Arizona.
---
"I agree with everyone. Mylo was an awesome guide and made it possible for me to take home some great pictures of the Canyons. I would love to go back again for another photography workshop sometime."
B. –Allison, Michigan.
---
"We were recommended this trip and area and having a new camera decided to go. I can't start describe how good it was. Mylo was enthusiastic and his love of photography was obvious. Mylo's help explained in easy terms what my camera could do (Nikon D90) and with his help I have some fantastic photos. I would even go as far as saying they're as good as a professionals. The canyon and area is ideal for taking photo's and the 2.5 hours inside Antelope Canyon seem to whiz by. I would highly recommend Mylo to anyone with any type of camera. Mylo will help you to get the best out of your camera."
Participant name withheld because he asked. –Liverpool, England
---
"We loved the slot canyons. My husband was a bit wary based on the price tag but afterwards said it was worth every penny. We took the photo excursion.Mylo is extremely friendly and interesting. He helped everyone in our small 7 person group with their camera settings and showed us how to take the picturesto get the best photo. This trip was worth every cent and the getting up at 5:30 am to drive there from Zion's!
Participant name withheld as requested. –Hampton Roads, Virginia.
---
"The photo tour was a surreal and seemingly spiritual. The light shimmering through the slots above created a moving experience. There are no words to capture the experience, so check out the pictures, (This is truly a case of a picture is worth a thousand words, although some of the scenes would leave one speechless.) but as beautiful as many of the pictures are, the beams shimmering and the light moving, the live action, made the event almost spiritual. A memorable experience, thanks to Mylo, (in every sense of that word) who was knowledgeable of cameras and the canyon, engaging with all of us on the tour, and personable. It is hard to imagine a better guide and a better experience!"
Steve J. –Torrance, California.
---
"This was a great experience. Got some fantastic photo's and Mylo was a great help. He suggested some good places to shoot from and helped me find better settings on my camera. A trip is a must."
Steve E. –Escondido, California.
---
"Mylo was as awesome as Antelope Canyon. We had 8 people in our group and it was an incredible experience. Mylo was very knowledgeable about all types of cameras and lenses and he helped you get the best photo possible. We came away with some incredible images and memories. If you are lucky enough to get Mylo, you will not be disappointed."
K. T. –Grand Junction, Colorado.
---
"Every positive review is understated, especially if Mylo is your guide. Mylo guided us around the area and slots. He also suggested camera settings. He seems to know every camera. In summary: Only God or Disney could create something so mystical."
Name withheld because he asked –Cape Cod, Massachusetts.
---
"Mylo, the guide, is the go-to guy. He knows your camera and will give you accurate settings in advance of the trip. Just ask him. Take your tripod for sure to get stable photos. He knows precisely the place to be at the time the sun penetrates the Pagearea and slot canyons. Take the photo tour if you want the extra time to get photos. I'm happy with my photos! Amazing shots if I do say so… If you are on the ball and follow Mylo, you'll get good results. Great Experience!"
C.O. –Canon City, Colorado.
---
"Page and Upper Antelope Canyon is beautiful, as many others have attested too. If you go on a photo-road trip, you have to go with Mylo. He is absolutely the best! We had many different experience levels on our trip, and he helped everyone get a great picture. Mylo is a very accomplished photographer himself, so in addition to the tour you can learn a good bit from him. On top of this he is a nice and interesting guy.
I went on another photo tour in a different area and there is no comparison!Must go with Mylo!"
Lucy K. –Las Vegas, Nevada.